Welcome to ALES GSA 2020-2021
ALES GSA Virtual Research Symposium - March 29 & 30, 2021
All graduate students in the Faculty of ALES are welcomed to submit their abstracts until February 26, 2021, 11:59 PM. Deadline extended to March 5, 2021, 11:59 PM MT. 
Submit your abstract HERE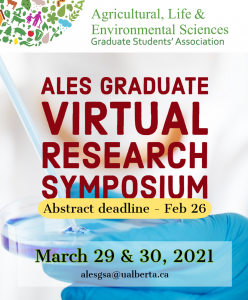 Please check your emails, and we are looking forward to hosting an interactive event with students, researchers and industry professionals!
Equity, Diversity and Inclusivity within ALES and the University of Alberta community
ALES GSA on February 12, 2021, held an event covering topics such as Black History Month, International Week for Sustainable Development by the United Nations and to celebrate the International Day of Girls and Women in Science, under the bigger umbrella of EDI.
We had the pleasure of hosting representatives from the Black Students' Association and the International Students' Association, welcomed by the President of the University of Alberta, Bill Flanagan, and in an open discussion with the Dean and Vice Dean of ALES, Dr. Blade and Dr. Adamowicz.

Merry Christmas and a Happy New Year
We wish you a better, healthier and successful 2021!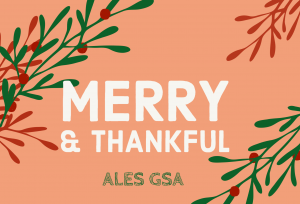 Virtual Game Night - December 1st, 2020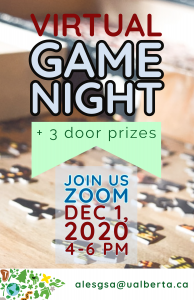 2016/2017
Games Night
Board games and pizza provided!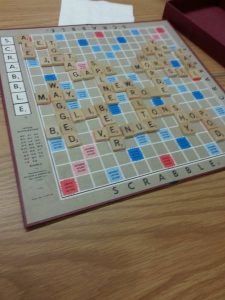 ---
Research Symposium
2017 Graduate Research Symposium
The Agricultural, Life and Environmental Science Graduate Students' Association invites you to attend the 2017 Graduate Research Symposium on March 28, 2017 in Dinwoodie Lounge from 1:00-5:00 pm.
View the Program with Abstracts